The 29 Best Craft Coffee Shops in Los Angeles
Food & Drink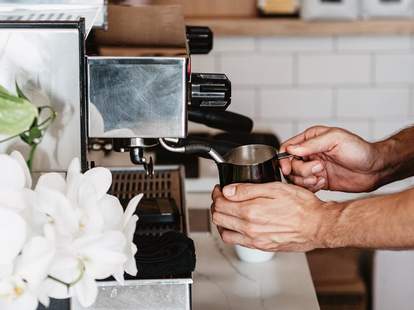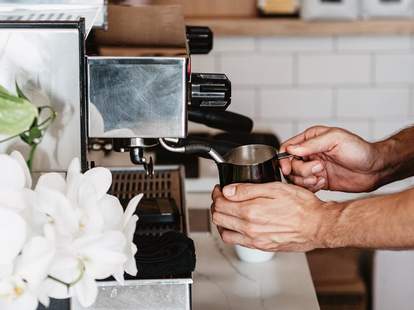 If coffee is black gold, then there's been a Gold Rush in the past 15 years, with specialty coffee powers descending on LA from across the US. Homegrown coffee companies have also stepped up, with some developing chains that source world-class coffee while others roast their own beans in-town. In many cases, Angelenos have benefited. Of course, the COVID-19 crisis has changed how people interact with coffee bars. Marathon laptop sessions are limited to outdoor seats, and regulars can no longer belly up to the bar to chat with their favorite baristas. Still, coffeehouses hold a treasured place in communities. Here are 29 of LA County's best coffee options right now.
Highland Park
Alex Morales and brother Alan spent time at Handsome Coffee Roasters and Tiago Coffee Bar + Kitchen before branching out on their own. Their stylish café on a bustling stretch of Highland Park sports an eagle logo and contains a white-and-blue color scheme and a high ceiling. The baristas brew Coava, Dune and Heart coffee for standard orders and specialty drinks like Liquid Gold, iced lavender matcha with oat hemp milk. Over time, they've brought savory food prep in-house, adding barbacoa burritos and smoked salmon toast with beet cream cheese to the mix. They also offer creative Sugarbloom pastries. A shaded back patio features picnic tables and plants.
How to order: They provide counter service or order ahead on their Square site.
Burbank (& other locations)
This growing chain, which has an imposing rooster logo on the wall and the obligatory Instagram-friendly tile, now keeps studio workers well caffeinated during TV, film, and radio productions. Proprietor Tyler King rotates through craft roasters like Brooklyn's Unity and Portland's Coava.. Their shiny stainless steel Slayer powers espresso drinks like a Cubano co-starring house-made cinnamon syrup. Bonus: The Burbank location has a full kitchen, meaning you can find fried chicken sandwiches, breakfast burritos, and impressive baked goods delivered daily from their nearby Glendale headquarters.
How to order: Walk in or schedule pickup through their Upserve website.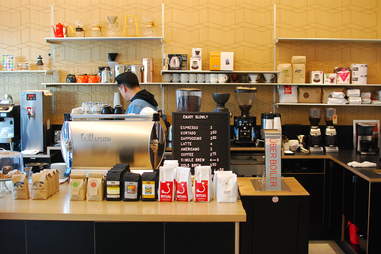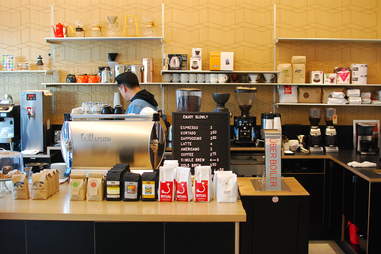 Joshua Lurie/Thrillist
Culver City (& two downtown locations)
Considering owner/architect Yeekai Lim earned his reputation with pop-up coffee bars around the city, it's nice to see a fully realized take on his vision. At his first brick-and-mortar location in Culver City, he built a beautiful indoor-outdoor space amidst art galleries, complete with colorful chairs and a wise owl logo, and his two Downtown LA spots are equally sleek and modern. DTLA locations focus on Lim's Fashion District roasts, and the Culver City line-up changes depending what's really popping that season, though Seattle's Kuma Coffee, Brooklyn's Unity and Portland's Heart make frequent appearances.
How to order: Schedule pickup through their Ritual page and order single-origin Cog beans through their website.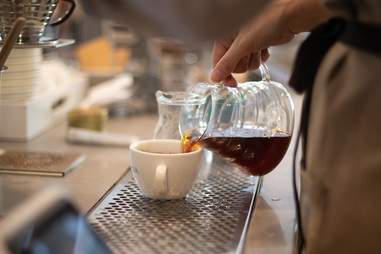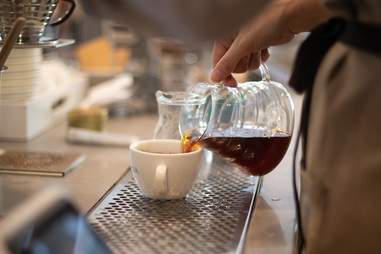 Pasadena
This multifaceted café has managed to stand out in Old Pasadena, a neighborhood that has seen a glut of coffee concepts in recent years. Steve Chang and wife Elaina started in 2013 by featuring superlative West Coast roasters before expanding to San Diego and switching to self-roasting. The menu is mostly classic, though they do shake double shots with brown sugar simple syrup and ice to make Iced Freddos and serve seasonal creations like the iced strawberry dipped mocha with espresso, house-made dark chocolate ganache, and strawberry milk. Their sandwich and toast-centric food program capitalizes on house-baked bread. To satisfy basic coffee (or tea) cravings for 10-12 people. Copa Vida also offers 96-ounce "Travelers."
How to order: Schedule pickup through their Square site.
Courtesy of Dinosaur Coffee
Silver Lake
Longtime hospitality pro Michelle Hantoot and her husband, who co-created Cards Against Humanity, brew beans from roasters like Dagwood Coffee Co. (Minneapolis), and Terrain Coffee Project (Portland) in a sharp brick-framed space that used to house an audio speaker repair shop. Core drinks are satisfying, and Dinosaur also serves coconut cacao cold brew and seasonal shrubs for customers craving a departure. Pink neon lets customers know, "Things will be fine," an especially reassuring sentiment during such chaotic times. 
How to order: Simply stand in Dinosaur's orderly line at their Plexiglass window.
Echo Park
Soo Kim's coffee bar is an Instagrammer's dream: Her airy space, which resides along an especially fashionable stretch of Echo Park, features white walls (including white brick), a tile-backed marble bar, and wood-bench seating. Baristas brew Heart Coffee in vac pots, with a La Marzocco espresso machine, and as cold brew, which packs a potent punch and comes in a glass big enough to keep you conscious for at least two days straight. Shaken Eightfold cold brew incorporates oat milk and maple syrup. Pantry items for the pandemic include floral Bloom honey and Mylk Labs oatmeal.
How to order: Schedule pickup or delivery through their Square site.
Chinatown
Jack Benchakul is a coffee scientist who applies exacting standards to his minimalist coffee bar in Chinatown's Far East Plaza. If you're looking for a jolt of endorphins and caffeine (Endorffeine!) this is the place. Sit at the nine-seat, horseshoe-shaped bar and watch the master at work behind the stainless steel Modbar. Bottled signature beverages incorporate coconut milk and include unique flavor combos like vanilla-pandan coffee and matcha coconut tea. Cold-brew growlers are double filtered and steeped for 36 hours. For the pandemic, Endorffeine built a patio with four well-spaced stools behind LEGO-inspired boundary walls. Benchakul also personally delivers home orders, which maintains the connection with regulars.
How to order: Walk in or schedule delivery for 64-ounce cold brew growlers, bags of coffee beans, four-packs of ready-to-drink coffee and tea lattes through Instagram.
Downtown
Even in this group, the open-air Grand Central Market stall with 360-degree bar service that Kyle Glanville and  former partner Charles Babinski founded still stands out. Sure, both United States Barista Champs trained staffers to take a meticulous approach, sparing no gram when pulling espresso shots or brewing cold brew, but the crew also has fun. Just look at specialty drinks like their turmeric-ginger and almond macadamia, or the powerhouse shake made with GCM neighbor, McConnell's Ice Cream. Sibling concept, Go Get Em Tiger, provides baked goods like banana macadamia loaf and plum coffee cake.  During COVID-19, they also sell pantry items.
How to order: G&B prefers scheduling pickups through their Square site, though they also allow grab-and-go takeaway orders.
Culver City (& Venice)
Seasoned veteran Christopher "nicely" Abel Alameda clocked time behind some of Seattle and LA's best coffee bars before teaming with Louie and Netty Ryan and drummer Derek G Taylor on this beloved Venice coffee bar.  In 2019, they expanded to Culver City, where they brew Cat & Cloud Coffee, including collaborative blends and nitro brew. Their latte art may also be LA's best — after all, nicely is a three-time Latte Art World Championship winner. Menotti's also has a secret menu hidden behind a photo of Cesar Menotti that reveals unique drinks like the Heavy Metal Jack Jack: pitch black cold brew shaken with maple syrup, half and half and Schizandu activated charcoal, chilled with cold brew ice cubes. The Culver City location also showcases a photo mural of legendary social justice champion, James Baldwin.  
How to order: Walk in or schedule pickup through their Square site.
Downtown (& other locations)
This similarly precise coffee bar from Misters G and B has become a respected local chain, with beans roasted in Vernon, plus craveworthy food and pastries. GGET's ROW DTLA location may provide their most complete experience, with the biggest, most stylish space sporting a black and white L.A. freeway photo mural dotted with cartoon animals and pink accents that extend to the chic three-group espresso machine. Before the pandemic hit, people would fill curved benches and outdoor tables on the former loading dock, to enjoy their famed iced almond macadamia lattes and glorious cheeseburgers. Now orders are geared to go, including specialties like crullers that don't appear at all GGET locations. During the COVID-19 crisis, they also provide compelling pantry items for home use.
How to order: Schedule pickup or delivery through their Square site.
Silver Lake (& other locations)
The dream team that opened this Sunset Junction coffee bar in 2007 has long since disbanded, but Intelligentsia's first LA branch remains a juggernaut. The coffee is roasted in nearby Glassell Park, the quality remains good given the high volume, and the signature Angeleno beverage is as popular as ever, featuring a quadruple shot of espresso shaken with milk, agave, and ice. Black Cat espresso is the star ingredient that graces most cups, though Intelli has diversified into chai and matcha drinks over the years.
How to order: Walk in or schedule pickup through Intelli's Toast site.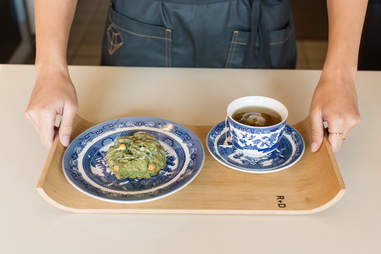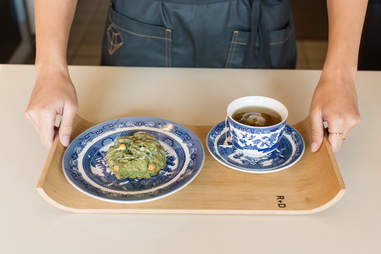 Cacá Santoro
Hollywood
LAMILL co-founder Jean Shim went solo in 2015, debuting her fashionable coffee bar in Hollywood's Columbia Square complex, in a space that features blue-grey and red walls lined with art and two elaborate chandeliers, including one crystal and another that resembles spaghetti. They promote BKON vacuum processed RAIN technology for coffee and tea, and they have many nitro drinks. During simpler times, they offered a cascading nitro flight with cold brew coffee and three teas: matcha, ginger ale green, and hibiscus. Now creative beverages are simply available on a piecemeal basis, including cold-smoked chile mocha latte and hot rose vanilla latte. Food's limited during the pandemic, though they still offer Elia's oversized chocolate chip cookie, which the owner's daughter makes.
How to order: Counter service is available, and they also provide Postmates pickup and delivery.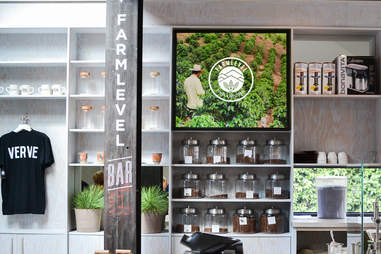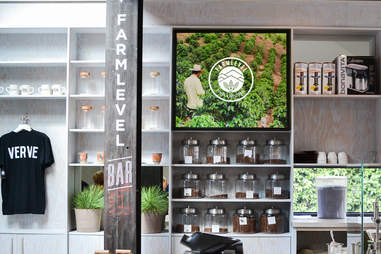 Joshua Lurie/Thrillist
Arts District (& other locations)
This Santa Cruz import from Colby Barr and Ryan O'Donovan made a great first impression, with its first LA shop brightening an emerging part of Downtown, and others popping up around the city. The Arts District outpost, which debuted in 2019, is the most ambitious to date, complete with a glass-fronted Roastery Del Sur, three space-age Kees van der Westen espresso machines, 18 taps devoted to flash brew, flavored lattes, and specialty drinks an upstairs tasting lab, and a patio sporting stylish orange, black and grey tiles. Before COVID-19 hit, this SoCal flagship served the city's largest coffee mocktail menu, including rosemary grapefruit flash brew and a Cascara Negroni with coffee cherry vermouth and house-made juniper tonic. During the pandemic, they've pared down, but even their standard drinks shine. Verve Roastery Del Sur also touts an impressive food menu, including a smoked salmon toast and a breakfast sandwich with house maple bacon, everything-spiced hash brown, egg, cheddar, and sundried tomato jam. They also sell a 96-ounce coffee box that caffeinates 8-10 people and stock a full "pantry" with items like Verve maple granola, mixed berry jam, and nitro flash brew cases.
How to order: Schedule pickup through their website.
Echo Park
Janine Awan and husband Saadat got the Echo Park coffee scene rolling with their rustic café just north of the lake. Reclaimed wood, box seating, and red walls give life to this neighborhood favorite. The couple recently started roasting downtown and now brew their own beans for drip coffee, making sure to credit the farm and producer on every package. Woodcat baristas still use local Canyon Coffee for espresso drinks, pulling shots on a sleek Faema espresso machine that sports a racing stripe. Clearly, this bar was built for speed, but the crowd is always chill.
How to order: They don't allow customers indoors, but created a window in the front door.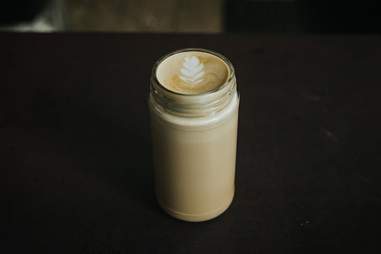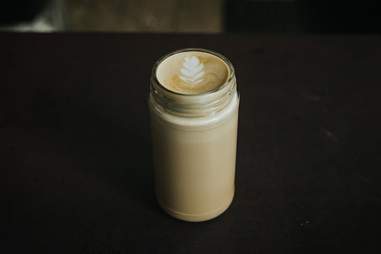 Culver City
Hayden Tract is a hub for innovation, with designers, filmmakers and Vespertine all in residence, so it makes sense that coffee pro Zayde Naquib and business partner Jereme Pitts set up their roastery-cafe nearby in 2014. The modern space with the countertop Modbar, vintage black Probat roaster, and communal seating has clearly captured the imaginations of neighborhood creative types. Baristas take care when presenting espresso drinks, pourover, and tea. Their effort to "push coffee forward" also involves customer education. Bar Nine even offers coffee subscriptions. Bar Nine's food program has become increasingly focused and ambitious over the years and now incorporates bread from local bakeries Lodge and Bub and Grandma's to produce exquisite toasts and breakfast sandwiches. Even their granola is thoughtful, made with buckwheat, amaranth, hazelnuts, pepitas, and seasonal fruits they compress, dehydrate, and turn into syrups.
How to order: Schedule pickup through their Square site.
Little Tokyo (& Santa Monica)
Coffee maverick Bobby Roshan turned a triangular corner space with an umbrella-shaded patio in the Kajima Building into a coffee destination. His staff's willingness to experiment has no doubt paid dividends. Their approach starts with equipment, which extends beyond an espresso machine and pourover cones to Kyoto style cold brew towers and illuminated vacuum pots. Roshan also empowers baristas to create new signature drinks like a strawberry ginger latte and spicy Kobe Bryant inspired Black Mamba latte made with Okinawan black sugar and ginger. For summer, they created an inspired affogato with espresso and a chocolate coated honey lavender popsicle instead of ice cream. Their food program centers on Sugarbloom Bakery pastries and compact breakfast burritos, including a veggie standout that incorporates brown rice, summer squash and matsutake mushrooms.
How to order: Walk in or order ahead at both locations using their Ritual page.
Eagle Rock
When Annie Choi left Demitasse's Santa Monica outpost as general manager, she made a big jump and launched Found Coffee: a bright and airy café punctuated with pops of color like green metal chairs and a yellow La Marzocco espresso machine. She hasn't forgotten her roots, and still serves Demitasse's roasted beans at her shop, but her patrons also get to try a California roaster roster that includes local mainstays like Stereoscope and Peri, plus other rotating favorites. Choi also brings in food vendors for pop-ups at Found Coffee, slinging everything from gourmet avocado toasts to next-level churros. 
How to order: Walk in or call ahead to 213-866-1231.
Silver Lake (& West Hollywood)
Consider Tohm Ifergan a coffee DJ. At the color coordinated, "maximalist multi-roaster" coffee concept he launched with cousin Philippe in 2018, he combs the globe for distinctly delicious beans. In Dayglow's fashionable millennial pink Silver Lake café –West Hollywood is green – he brews beans from roasters like Hong Kong's Cupping Room, Montreal's Kittel, and Seoul's Fritz. Cocktail-style signature beverages include the Warhol, a creamy espresso drink seasoned with vanilla, cinnamon, lime, and nutmeg. To show continued trust for Tohm Ifergan's taste in coffee, consider a home subscription.
How to order: Walk up and sit at an outdoor table or schedule pickup or delivery through coffeetoglow or Caviar.
Glendale
This coffee bar from Andrew Atkin, Joshua Atkin and Michael Teahan has been a hidden gem in a residential neighborhood across from Adams Square Mini Park since 2017. KAFN promises "f-n good coffee" and delivers with a multi-roaster line-up that includes Brooklyn's Unity, Arkansas based Onyx Coffee Lab, Topeka-born PT's Coffee, and local Boketto Cold Brew. They use a three-group lever espresso machine to power unique drinks like Julio's Pamplemousse, cold brew with pulpy fresh-squeezed grapefruit juice and agave sweetener served over ice. The Shamrock was a March special for St. Patrick's Day, an iced minty matcha that hopefully resurfaces. KAFN's house-made syrups come in flavors like caramel, lavender, and pumpkin spice, and they also serve spicy chai on tap made with almond milk.
How to order: Call 323-863-5236 to order ahead or schedule pickup and delivery through Yelp.
Lincoln Heights (& other locations)
Ulysses Romero has built a business that reflects his hometown's Latin flavors, starting in South LA and now extending north of downtown. Tierra Mia recently built a new headquarters next to the 5 freeway, which is where team members roast beans for their community focused coffee bars. Their Lincoln Heights facility houses a particularly large café featuring an umbrella clad patio lined with succulents and interior touting tile floors, farmer photos on white walls, and a  pastry case for house baked goods like guava cheese pastries and tres leches muffins. A three-group Strada espresso machine fuels beverages like dulce de leche latte and cafecito Cubano. Ice-blended frappes are also popular, particularly cinnamon dusted "rice & beans" featuring horchata and ground coffee beans.
How to order: Schedule online pickups through Tierra Mia's website.
Inglewood
Lawyers Shanita Nicholas and Amanda-Jane Thomas opened this spacious café in early 2019 in Inglewood's resurgent downtown, just one mile from high-profile new SoFi Stadium. This Black-owned business has become a community hub, and not just for coffee, complete with a communal wood table, lounge seats, and art-lined walls. Red Bay Coffee beans from Oakland and a two-group La Marzocco espresso machine help baristas serve some of the area's best coffee drinks, including a floral iced honey rose latte. People may not know the word sonder, and the owners define it on the wall: "The realization that each random passerby is living a life as vivid and complex as your own — populated with their own ambitions, friends, routines, worries and inherited craziness." 
How to order: Order ahead using the Joe Coffee app to schedule storefront pickup.
Thai Town
Heather Knox and fiancé Joshua Oliveros both worked in other people's coffee bars before debuting this stylish café to start 2020. They named Obet and Del's for his parents Delia and Robert, who designed their personal logo decades back. The colorful space includes a sleek curved racing stripe design, wood tables with cushioned seating, and a coffee bar that showcases local Bicycle Coffee beans in sometimes novel ways. Filipino iced coffee is a powerfully caffeinated, creamy, and sweet concoction made with Filipino purple yam and oat milk.. Thai Town latte nods to the neighborhood, combining tea with oat milk, star Anise, vanilla, and tamarind. Knox and Oliveros posted on Instagram in June, saying, "We're a family business; woman-owned, Black-owned, Filipino-owned and loving every bit of the culture we're cultivating." Considering how much energy and flavor the couple's generating, Obet and Del's Coffee culture transcend the COVID-19 crisis.
How to order: Walk in or schedule pickup through Toast.
Compton
This highly personal roastery and cafe next to Wilson Park touts twin counters, a shared wood table, and photos on the walls, which during our visit depicted Maya Women in LA. Owners Deanna and Geoffrey Martinez clearly stand for more than just what's in their cups. A heartfelt sign on the wall reads, "First and foremost, we acknowledge our position as guests on occupied Tongva land. Patria Coffee is a space intended for Communities of Color to share a safe place." The message finishes by saying, "The most beautiful coffee is grown by Black and Brown hands. We aim to honor their labor by presenting it to you the best that we can." They represent the farmers well in espresso drinks, filter coffee, and cold brew. They even offer a signature drink that speaks to the community: cafe de olla featuring cold brew and syrup crafted with cane sugar, cinnamon and cardamom.
How to order: Schedule pickup through their website.
East Hollywood
Is another specialty coffee bar better equipped to handle a pandemic? Unlikely. Benjamin Montoya, Edoardo Chavarin, Jeff Solorio, and John Juniper restored a bygone Texaco station north or Koreatown and debuted Full Service Coffee Co. in 2018. Now, when customers pull into the station, their car trips a wire that rings a bell for a barista instead of a gas attendant. Full Service offers a simple menu to keep cars moving, limited to drip coffee, cold brew, and espresso drinks made with Verve coffee beans and a La Marzocco GB5 behind glass. They typically allow customers to sit at picnic tables beneath red umbrellas, but during the COVID-19 crisis, it's best to just grab and go.
How to order: Drive through or schedule pickup through their Square site.
West Adams
Alta Adams does comfort food right at night and for brunch, and this sibling concept stands out by day, drawing from the same kitchen. Adams Coffee Shop feels like a communal living room, with colorful lounge seating, large communal wood table with black metal stools, and a record player that spins crates of LPs. A red two-group La Marzocco espresso machine channels Coffee Manufactory beans to good effect. Mocha de Abuela is a notably spicy espresso drink crafted with chocolate ganache, cinnamon, cayenne and brown sugar. The blackboard menu changes frequently, so cross your fingers for savory porridge topped with collard greens, fried egg and chile oil; and a hefty breakfast burrito with bacon, melted cheese, refried beans and scrambled eggs. Meatloaf sandwich with Monterey Jack and mushrooms is a mainstay. They also stock a pastry case with cookies, muffins, and other treats baked next door.
How to order: Walk in or schedule delivery through DoorDash and Grubhub.
Echo Park
Rwanda native Jack Karuletwa roasts African beans in Boyle Heights (where his roastery-café is currently closed) and brews them at the Echo Park spinoff at the base of the historic Jensen's Recreation Center building. The space features framed Burlap coffee sacks on a brick wall, central bar with an aqua stained wood panel base, and large logo of the company's majestic namesake animal. The company donates to Gorilla Doctors and benefits other charitable organizations back home. Visitors can order unadulterated African coffees that Karuletwa sources. Flavored nitro coffees are also popular, including cinnamon and frothy vanilla oat. This location has a more robust food menu than the Boyle Heights original, including breakfast wraps, salads and sandwiches, with several vegan options.
How to order: Walk-ins are welcome, though it's possible to order ahead through Door Dash, Grubhub, and Uber Eats or by calling 213-318-5048.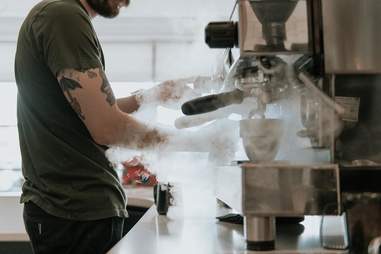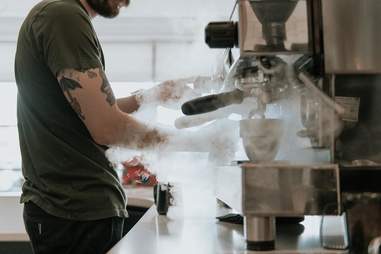 Long Beach
Alan Gomez moved next door to make way for Analog Record Shop. His retooled coffee bar now looks better than ever, with exposed white rafters, sea blue tables, wood benches with mauve piping, and a round bar showcasing Onyx Coffee Lab beans from Arkansas. Traditional espresso beverages and brewed coffee shine, though Gomez also serves Rose Gold lattes made with turmeric and cayenne and barrel-aged coffee that absorbs flavor from a small countertop oak barrel.  Complementary dishes include breakfast sandwiches, breakfast tacos, and toast spread with house-made coffee butter, cinnamon, and sugar.
How to order: Walk-ins are welcome for grab-and-go.
La Cañada-Flintridge
Since 2017, Kevin Kim's multi-roaster café has been the best place to grab coffee before traversing the windy Angeles Crest Highway above the San Gabriel Mountains. The strip mall café features a quill log and stylish blue and white color scheme with some fun flourishes. Constellation brews beans from companies like Madcap, Kuma Coffee, and Onyx Coffee Lab and baristas deliver espresso drinks with consistently impressive artistry. Their "grenade" is a fun signature drink named for the key ingredient, teaming tangy pomegranate syrup with house-made chocolate ganache, espresso, and a choice of milk.
How to order: Call 818-864-6770 to order ahead for pickup.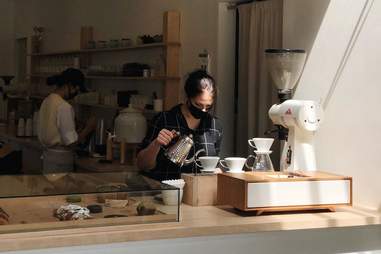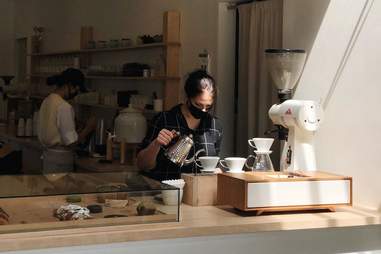 Los Feliz (& Arts District)
Jacob Park and David Kim brought their minimalist aesthetic and attention to detail to a freestanding Hillhurst building to start 2017 and followed that up with a larger DTLA location. In Los Feliz, they teamed wood furniture with white walls and a vintage-ish Marshall speaker to create an inviting vibe. Maru roasts their own beans, which benefit simple beverages and spiced cold brew that balances red pepper flakes, cinnamon, whole milk, and sweetened condensed milk that finishes with a tongue tingling slow burn. Creamtop is another signature drink with a fun twist: an iced Americano topped sweet cream. The name came from a Korean expression – san maru – and translates to "top of the mountain," which is Maru's goal.
How to order: Walk up to an ordering window covered with a hanging glass panel.
Sign up here for our daily LA email and be the first to get all the food/drink/fun Los Angeles has to offer.
Joshua Lurie is the LA-based founder of Food GPS, a company that showcases the best tasting food and drink through online coverage and by producing unique culinary events. Follow him at @foodgps on Instagram and Twitter.